When it comes to selecting the ideal Riser and Recliner chair, the abundance of styles and mechanisms can often lead to confusion. Understanding the distinctive features and benefits of each chair type is crucial in making an informed decision. In this blog post, we will explore the different styles, customisable options, fabric choices, and mechanisms available, helping you find the perfect chair that caters to your individual needs and preferences.
Our stocked inventory comprises six chairs, each boasting unique designs and colours. Additionally, we offer a made-to-order service that allows customisation of the chair according to your specific requirements. Options such as modifying the chair's back, choosing different fabrics, and selecting a preferred mechanism ensure a tailor-made experience.
Back Styles:
The chair's back style plays a pivotal role in determining comfort and finish. We offer five distinct back options, each with its own benefits. From the supportive lateral style that provides additional lumbar support to the adjustable cascade style, which allows individual positioning, you can choose the back style that suits your preferences. Other available options include horizon, letterbox, and waterfall. To gain a deeper understanding of each back style and identify the perfect fit for you, please refer to our comprehensive made-to-order page.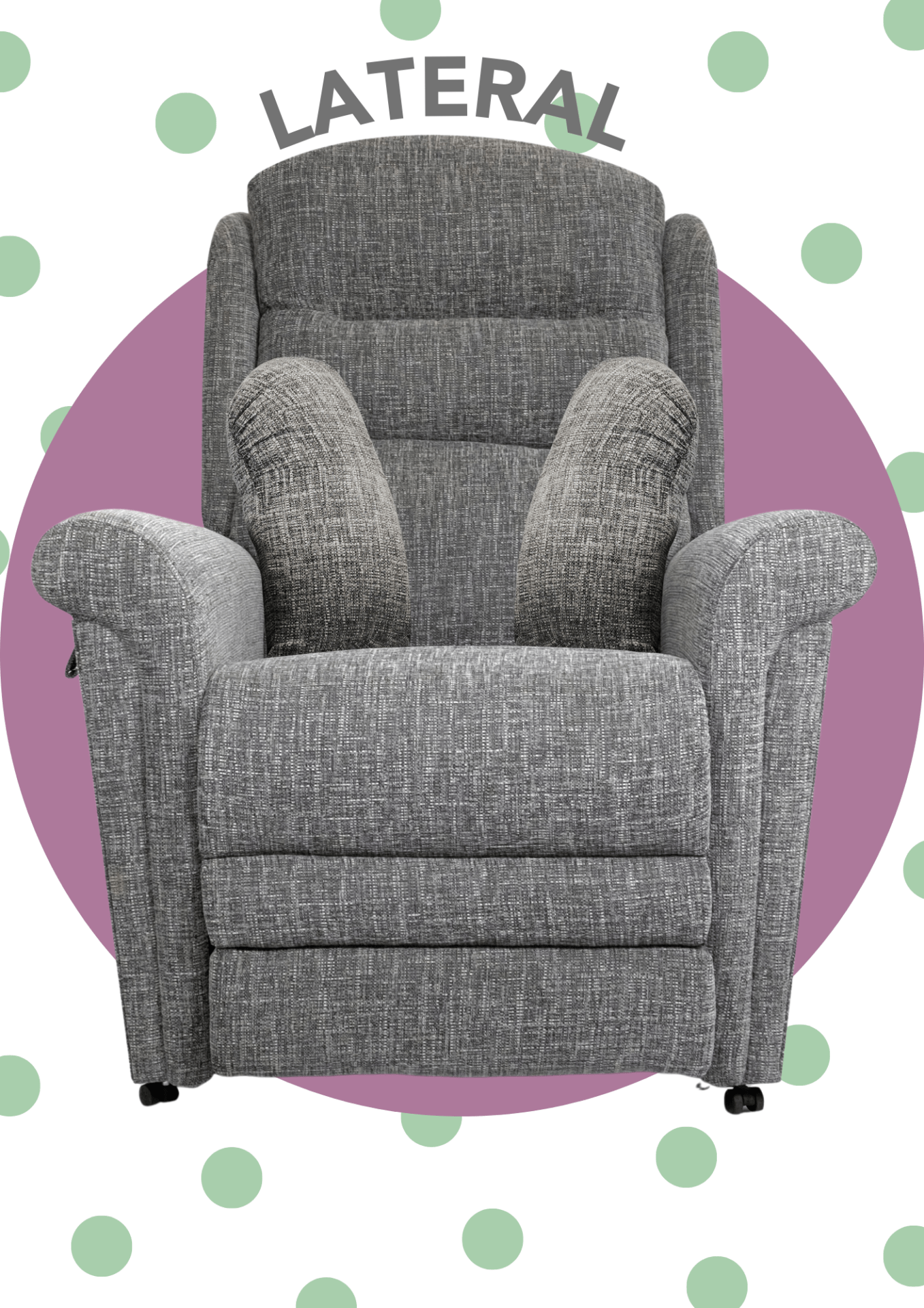 Fabrics and Aesthetics:
We take pride in offering an extensive range of fabric options for upholstering our chairs. Our Staffordshire fabric range features various choices, while our Crest fabrics provide options including leather and faux leather. With our wide selection, we ensure everyone's aesthetic preferences are catered to. For more information on our fabric options, we invite you to explore our dedicated fabric page and virtual fabric book to discover your favourite.
Mechanisms:
What truly sets each chair apart is its mechanism, which is instrumental in meeting your specific needs. Our range of eight different mechanisms offers a variety of benefits to suit individual budgets and requirements. From the Dual Tilt in Space Riser Recliner, which combines smooth dual-operated reclining with elevation to improve circulation and alleviate water retention, to the Deluxe Riser Recliner with independent back and leg movement, we have options to accommodate every preference. For a detailed breakdown of each mechanism and to identify the one best suited to your needs, we recommend visiting our mechanism explainer page, which offers comprehensive information on each recliner.
Choosing the perfect Riser and Recliner chair can be a daunting task, given the plethora of options available. By considering factors such as style, customisation, fabric choices, and mechanisms, you can navigate through the selection process with clarity and confidence. Whether you prioritise comfort, aesthetics, or functionality, our range of chairs is designed to meet your unique requirements. Begin your journey towards ultimate relaxation and comfort by exploring our diverse collection today.