What are the top 5 benefits of having a riser recliner chair at home? In this article we'll be deep diving into everything you need to know about your new or potential purchase and how to get the most out of it.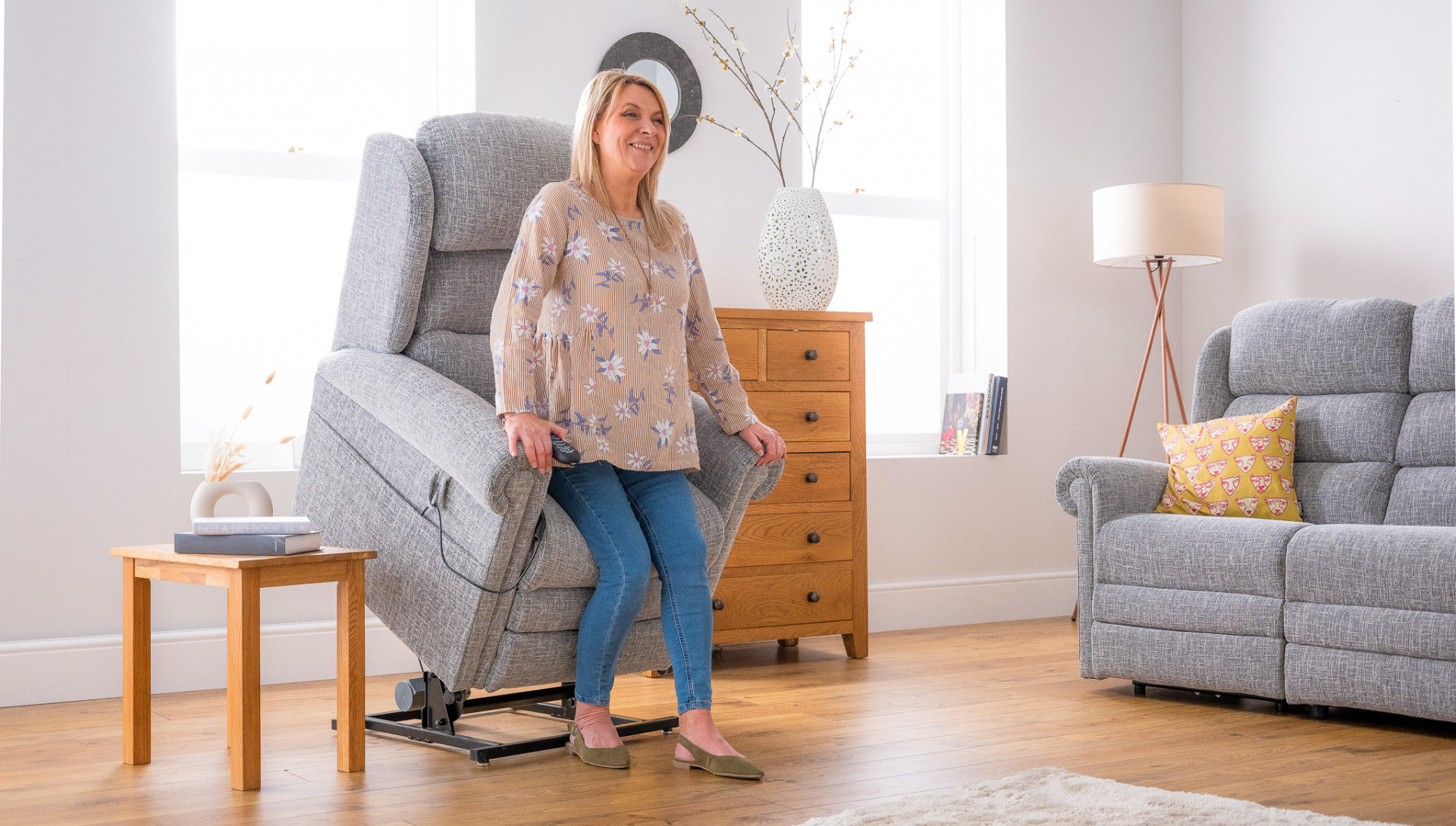 Ultimate Comfort
Whether you're socialising, reading a book, watching tv or getting some much needed sleep, your riser recliner moves with you and allows you to find your most comfortable position at the touch of a button. If standing up is becoming increasingly difficult for you, your rise and recline chair can give you the supportive lift you need to get back up and out there! Are your feet tired after standing around or participating in an activity? Simple sit down in your recliner chair and elevate your feet above your hips, this will improve your circulation and give your feet and ankles a much-needed rest.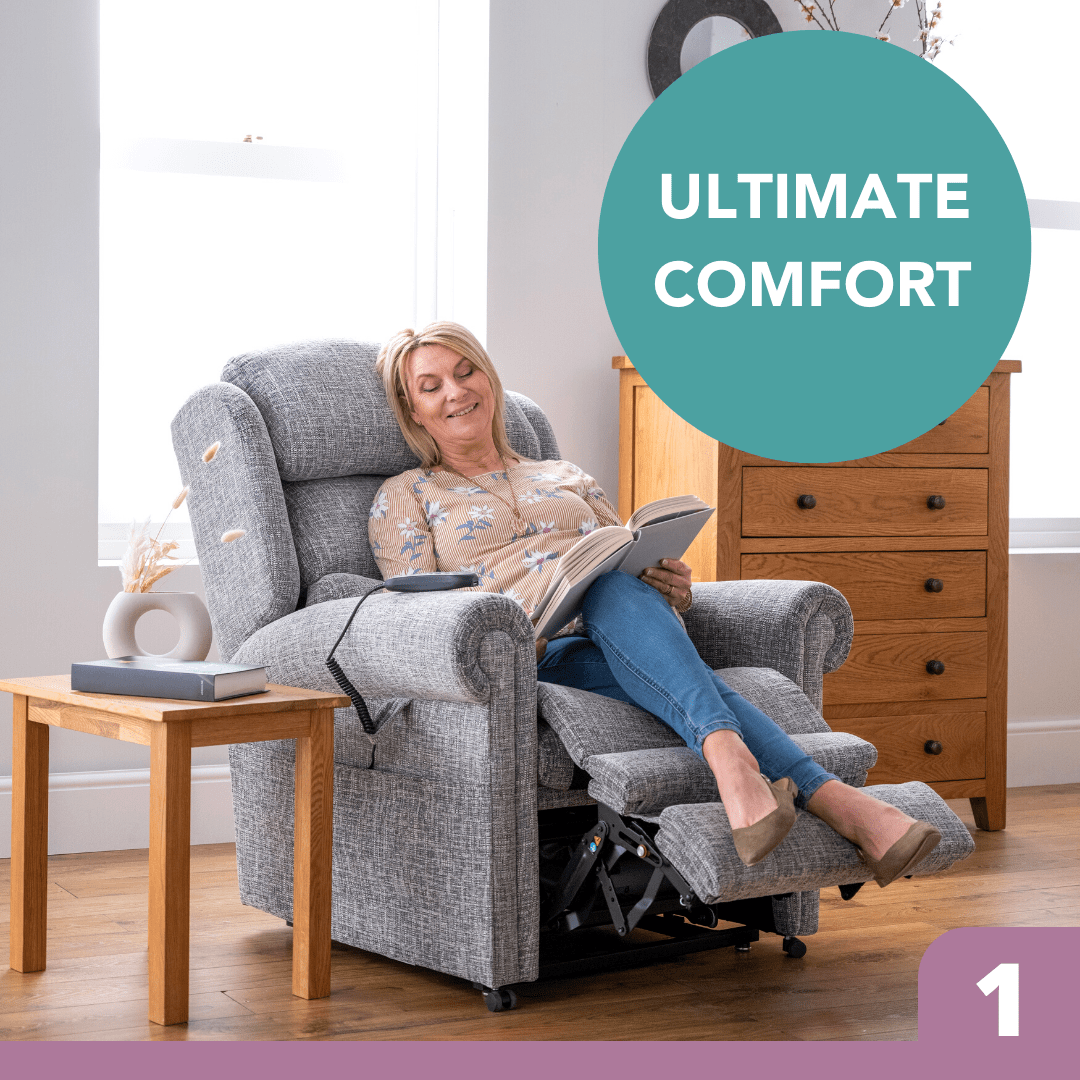 My recliner chair has been wonderful. Made to measure, in the fabric of my choice! What more could you want? – Margaret Baxter, Google Review.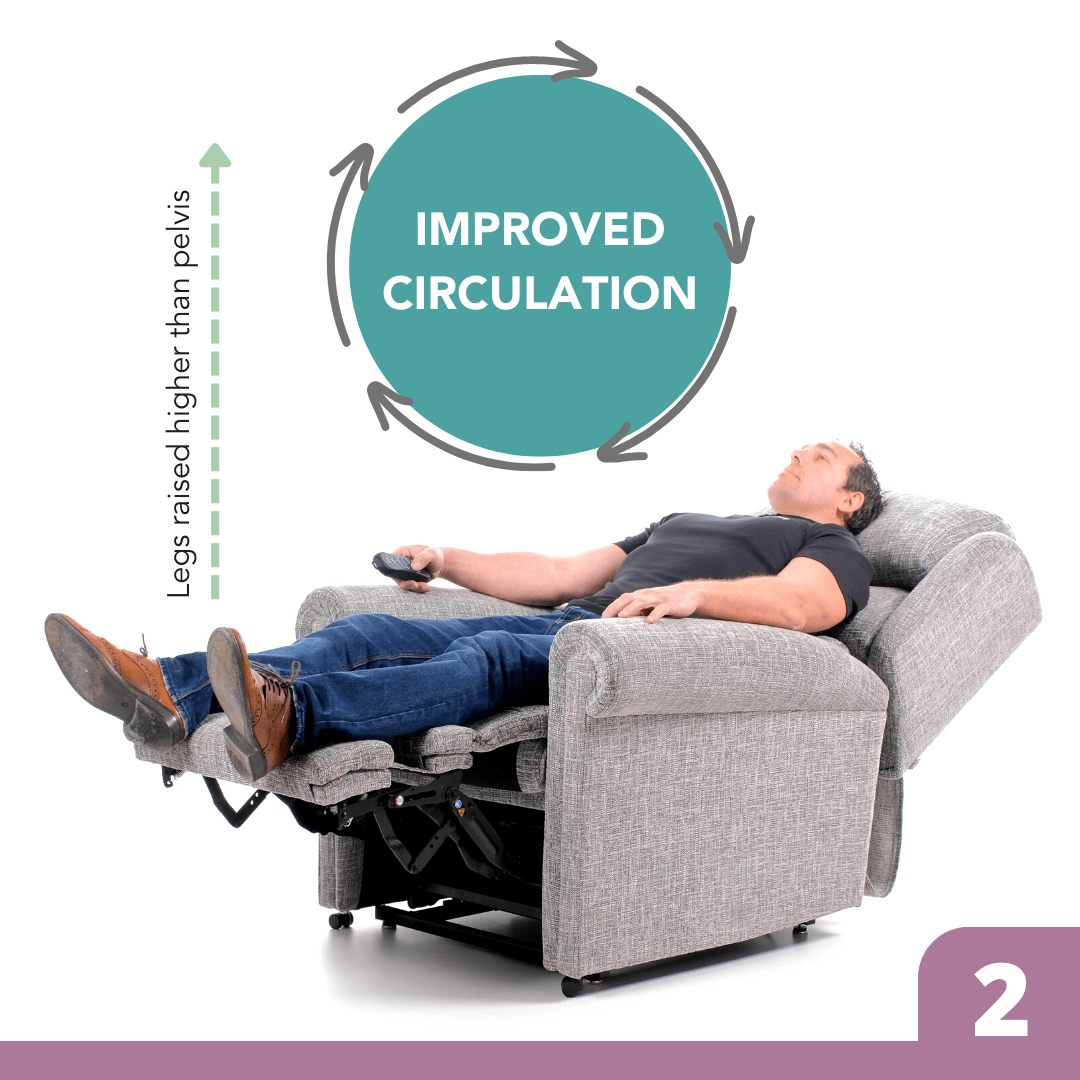 Improved Circulation
It's a well known fact that spending copious amounts of time on our feet, or even sat in the same position, can reduce blood flow and circulation leading to a whole host of complaints such as:
tingling
numbness
throbbing or stinging pain in your limbs
pain
muscle cramps
A recliner chair, and especially one with additional foot elevation or Tilt in Space technology, can aid in improving blood flow and circulation and reduce or eliminate the above complaints altogether. So you can feel better while you're sitting pretty!
Superior Standing Support
As we get older, standing up becomes more uncomfortable and even nearly-impossible depending on your physical health. This can also be an issue for younger adults living with a disability or limited mobility. Having a riser recliner chair means you can be well supported through the lift motion, as much as you need it, when you need it. Our Sitting Pretty recline and lift chairs are hand built with top quality materials to give you a sturdy base to lift out from. Fitted with premium grade technology that assists you from a seated into a fully standing position all at the touch of a button.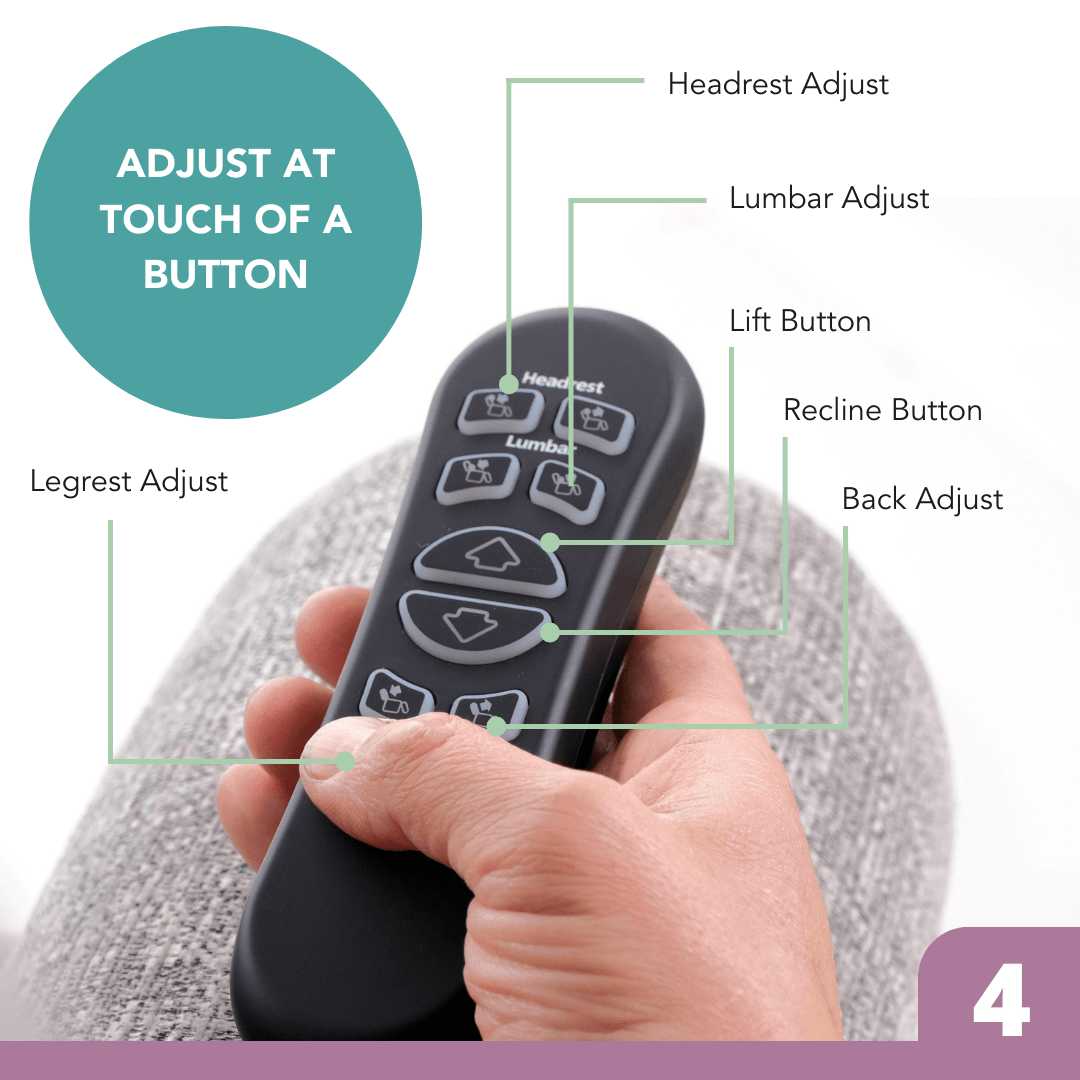 Adjust at the touch of a button
No more strain on your body! With a modern riser recliner you can recline, elevate your feet, or lift the chair to reach a standing position, all at the touch of a button. With easy-to-use remote controls it's never been simpler to reach your desired position.
Our Hudson range of riser recliner chairs are handcrafted in the united kingdom, have simple remote controls and a variety of different features to assist and support you depending on your needs.
Why not take a look at the range and find the perfect fit for you?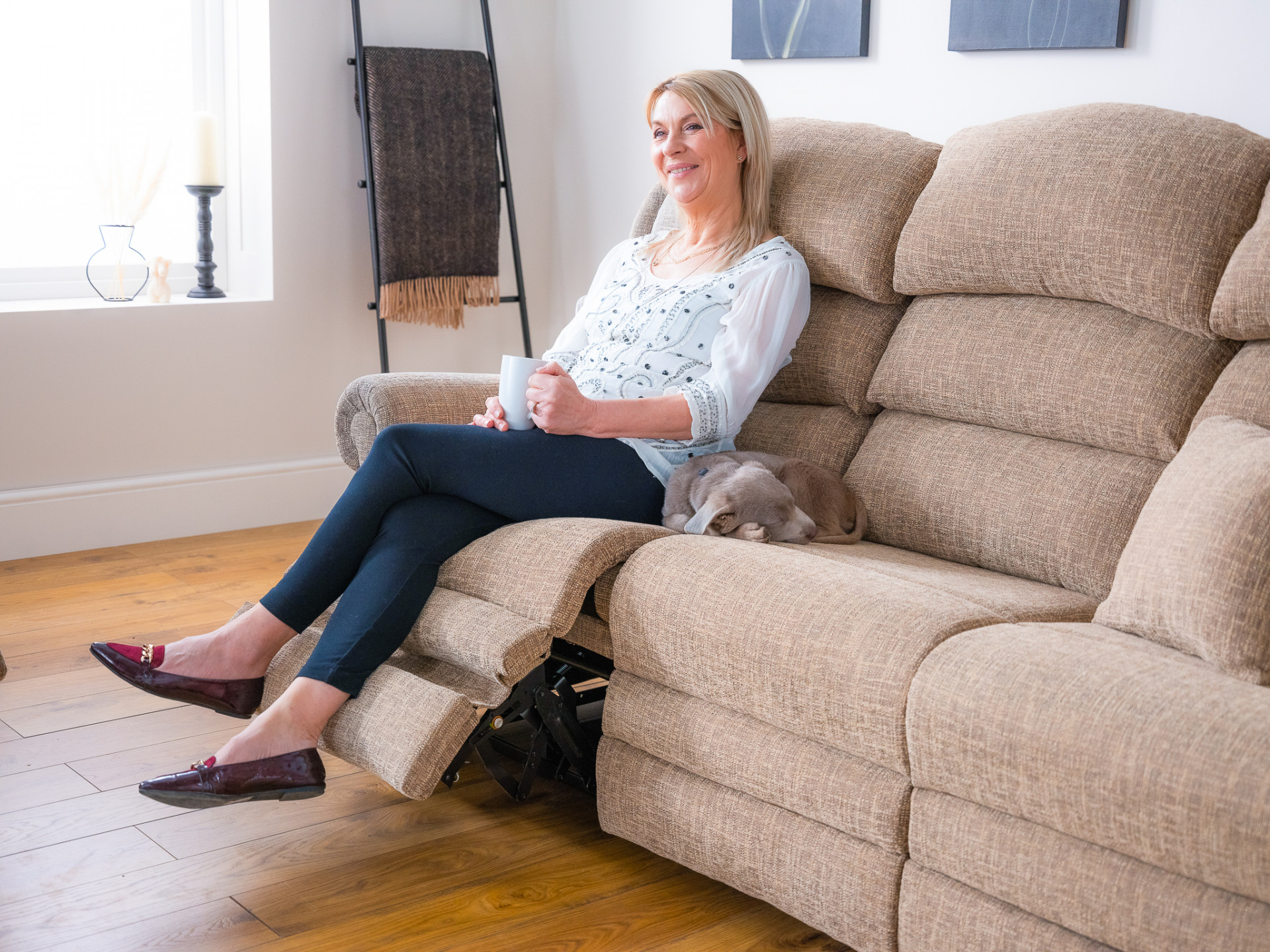 Coming Soon
We're very excited about the impending launch of our Premier Plus riser recliner technology. This mechanism will combine the best of the Premier and Dual Tilt in Space mechanisms, allowing for a near-zero-gravity tilt in space movement as standard. Plus two memory and heat settings, giving you the most relaxing recliner experience to dte.